Dodge Challenger Deals in Grayson, KY
If you want to find a great deal on the Dodge Challenger in Grayson, Kentucky, it's ready for you here at Pure Country CDJR. This spirited sports car builds on a legacy that has endured for decades, and the modern Challenger lives up to its reputation with extraordinary power. Those iconic muscle-car looks are more than matched by a lineup of mighty engine options, and the Challenger continues to deliver the brisk acceleration and thunderous performance that have made it a part of American automotive history. It also expands on its legacy with more contemporary offerings like its comfortable interior and state-of-the-art tech for safe travels and convenience.
To see what the Dodge Challenger can really do, you'll need to get in the driver's seat. We can make that happen here at Pure Country CDJR, so come visit our dealership in Grayson whenever you're ready. We'd love to put you behind the wheel for a test drive.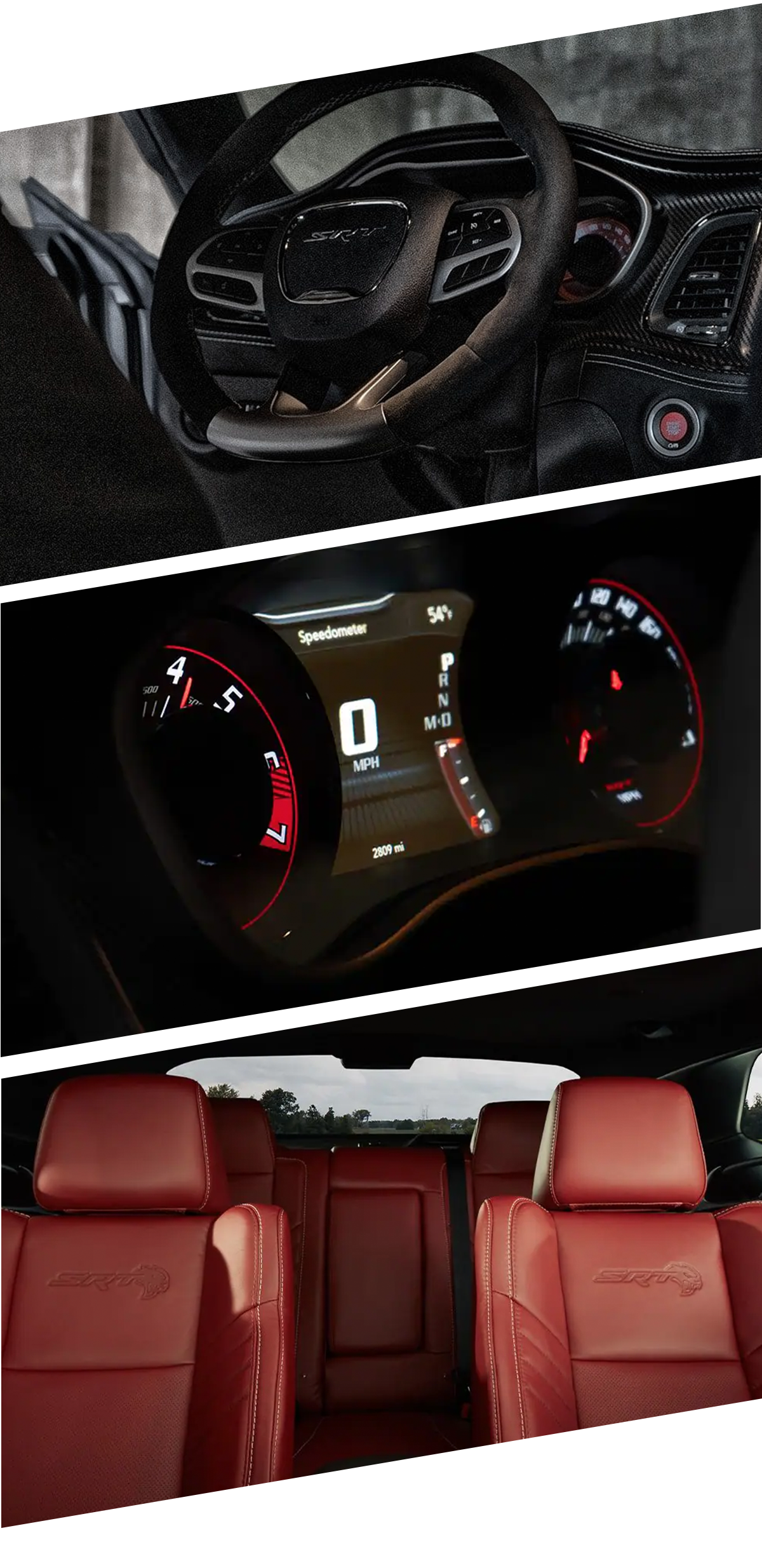 What's New in the 2023 Dodge Challenger?
The 2023 Dodge Challenger will be the final year model of the current generation, as Dodge plans to transform the muscle machine into an al-electric sports car in the future. To wrap up the generation with a victory lap, Dodge offers the 2023 Challenger in a variety of special editions including the limited-run Challenger Shakedown, available in 485-horsepower R/T Scat Pack and its Widebody variations. It's also available in a selection of colors from previous iterations, including Plum Crazy and Sublime Green.
The Challenger comes standard with a 305-horsepower V6 for 2023, while other engines like the commanding 485-horsepower V8 are also available. As drivers can always expect from the Challenger, the 2023 model rockets from a stop with aplomb, and you can merge and pass on the highway with confidence. You'll also be rewarded with a satisfying engine note in the process.
A Uconnect infotainment system makes controlling your onboard apps a breeze. Features and tech options for 2023 include high-quality sound systems, smartphone integration, power mirrors, and ambient interior lighting. Safety tech options include rear cross traffic alert and blind spot monitoring.
History of the Dodge Challenger
The Challenger name has been in use within the Dodge family for decades, beginning in 1959 with a full-sized sedan called the Coronet Silver Challenger. Dodge stamped the Challenger name on a new pony car in 1970, signaling the start of a long line of lively coupes with aggressive engines and looks to match. A new generation began in 2008, bringing the pony car back for competition with its American muscle-car contemporaries.
More recent upgrades to the lineup including the introduction of the Dodge Challenger SRT Hellcat model in 2015, running on a herculean Hemi engine for 707 horsepower. This variation became available as a Widebody in 2018, the same year Android and Apple connectivity became standard issue. The following year, the Hellcat Redeye replaced the Challenger SRT Demon at the top of the trim range, and in 2020, Dodge introduced the SRT Super Stock version with specialized racing tires and a devastating 807-horsepower V8 under the hood.
Find the Challenger for Sale in Grayson at Pure Country CDJR
We invite you to drop by our Grayson dealership to take a closer look at the Dodge Challenger. This sports car is ready and waiting to go, and you're also welcome to explore our full new vehicle selection to see all the other powerful models on our lot. When it's time to make a decision, you can rely on our finance teams to get you behind the wheel with confidence, and you can apply for credit online to get started today!