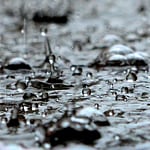 Hydroplaning occurs when wet conditions cause tires to lose their traction. The good news is that even during times of heavy rain, there are always things that Grayson drivers can do to avoid it. At Pure Country Chrysler Dodge Jeep Ram, we want to share several strategies for preventing these sudden and often terrifying events.
Don't Drive on Bald or Improperly Inflated Tires
Driving on worn tires that don't have good tread depth is a recipe for disaster. Replace bald, sagging, or otherwise damaged tires before rainy weather arrives.